Marketing
Process
Marketing is a process, involving research, planning, implementation and then refinement of a strategy.
At ISB, we offer total support with each step of this process.
Marketing Activity Flow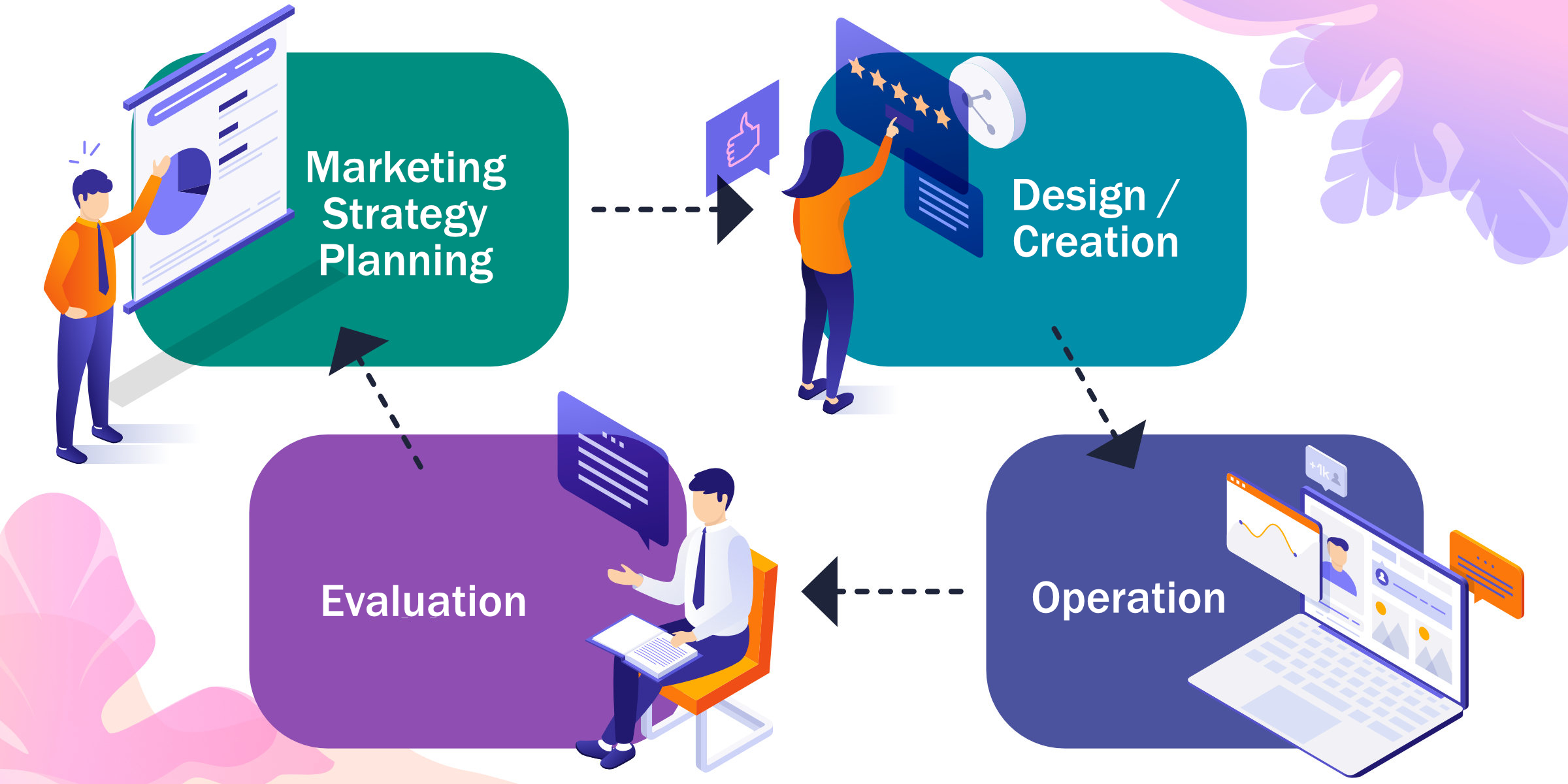 (1)Marketing Strategy Planning
Good strategy planning starts with assessing the facts on the ground, and building a strategy based on the situation as it is.
Japan's market conditions and trends, its preferred search engines, its customs and (obviously) language all require consideration as part of strategic planning. We are here to help with:
・

Marketing Research / Competition Research

・

KGI/ KPI Setting Support


KGI ( Key Goal Indicator ) refers to quantitative indicators of final objectives (goals) to be achieved, such as sales targets and profit ratio.
KPI(Key Performance Indictor) aims to measure the respective performance of each step in the process or aspect of a strategy, in terms of its contribution toward achieving the key goals.
Establishment of proper KPIs will allow assessment of progress, and knowledge of which steps or methods need modification in mid-campaign.
・

Differentiation Strategy

・

Concept Development

・

Making an Annual Plan

・

Marketing Persona Creation/ Customer Journey Mapping


A "persona" is a model of a likely user or customer of your service or products.
The characteristics and work situations of 'typical' users in Japan will likely differ from those in your country; this is an area where we can offer local expertise.
Having a clear image of the customers' values, lifestyles, likely behavior choices, will help in refining marketing practices to attract and receive a contact from real-world potential customers.
In conjunction with Persona Creation, we will help you formulate a Customer Journey Map, tracing and visualizing the thoughts, emotions, actions and reactions of target customers as they interact with your marketing and website content. This aspect of localization is essential to developing successful marketing campaigns which achieve their KGIs.
[Related services]
(2)Design / Creation
The next step is to design and create, in accordance with the KGIs and other aspects of the Strategic Plan, more details of the campaign.
We provide services such as website design, owned-media planning, white papers and columns, and other content.
・

Website Design and Owned Media Planning


"Owned Media" refers to media owned by a company; in online marketing, it refers more specifically to websites, including blogs, where you can share product information.
Posting on one's owned media increases the chance of attracting potential customers; hence, increasing the audience or readership of owned media is a key factor in generating more leads.
・

Whitepaper and Column Planning


A "White Paper" is more official and thorough than a blog: a report, providing information and analysis of certain issues which will be recognizable and of interest to potential customers. Further, like any good report, WPs should proposed solutions to the problems and issues identified in the Analysis section.
We can help produce White Papers. In addition, WPs allow us to obtain valuable customer information upon downloading of the paper—data which can be used for direct sales and marketing in future.
・

Infographics Design




An infographic is a visual representation of complex data, information and such, which in its simplicity and clarity helps deliver messages intuitively and directly. We can help you with effective infographic design, too.

・

Blog / SNS Planning

・

Case Study Interview Planning

・

Advertising and PR Support
[Related services]
(3)Operation
During the implemenatoin of your plan, ISB will provide continuous support.
・

Website Operation

・

Support with PR Activities
[Related services]
(4)Evaluation
This stage involves evaluating the efficacy of our campaign and operation, in order to uncover new activities or tasks which will help you achieve your goals, and refine your current marketing activities.
・

Website Access Analysis

・

Measuring Ad Effectiveness

・

Website Heuristic Evaluation


Heuristic evaluation is a series of evaluations and analysis that are conducted by experts regarding the usability and operability of your company's website.
Based on feedback from their perspectives, you can make proper improvements on your website to make it more user-friendly.
・

User Satisfaction Survey
[Related services]